The Finnish Ice Hockey Association and Wisehockey have signed a contract on a multi-year partnership that, in addition to the national teams' home arena, covers all games of the Finnish U20 league that are played in the Finnish Hockey League's arenas. Together, Wisehockey and the Finnish Ice Hockey Association aim to take player development in ice hockey to the next level.
With the new contract, Wisehockey receives world-class expertise that will further advance fully automated real-time sports analytics. The Finnish Ice Hockey Association has been working consistently and profoundly for decades, which has ensured many medals from top-level sports competitions in the 21st century.
"By implementing the Wisehockey platform in the Finnish U20 series, we take a big step forward. Analytics and data provided by the system will play an important role in the future when we plan the new direction of sport and player development and improve sport-specific analysis," says Jere Lahti, Director of competence development and CDO at the Finnish Ice Hockey Association.
"The Finnish Hockey League and the KHL are already collecting data. The next goal is to create a process to collect data from the steps leading to these leagues. This is how we can get a better hold of game development and the necessary steps toward developing an individual athlete, a team and the entire sport. We are planning to start mining gathered data for research in order to receive useful information and to better utilize the platform in our national teams' events, especially in the Vierumäki Training Center," Lahti continues.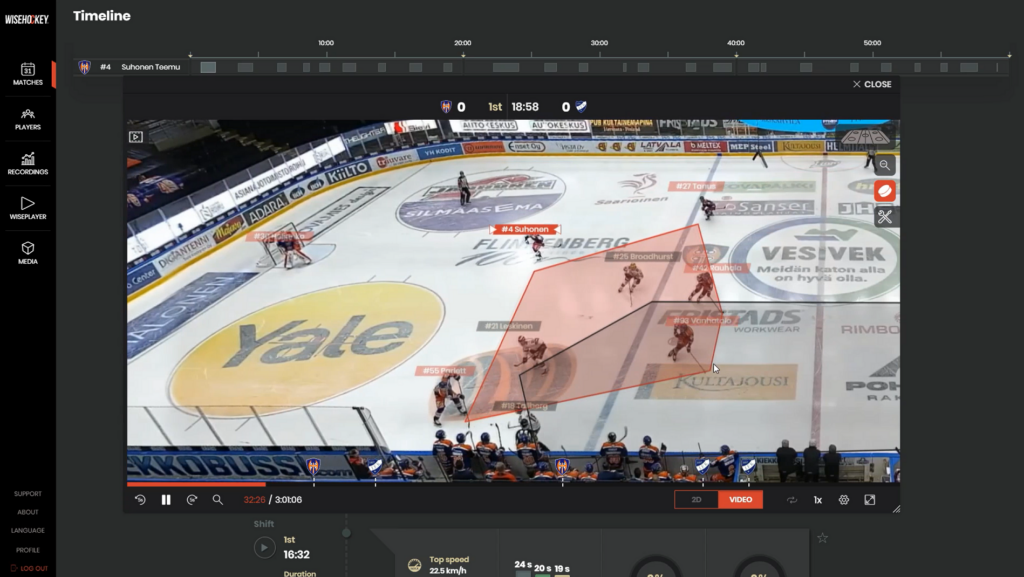 The fully automated real-time analytics platform automatically produces analytics and comparable statistics, covering several years and different level leagues. With Wisehockey's unique data produced from coordinate information, it is possible to re-analyze thousands of preceding games that were played with the system, which only takes minutes. From now on, Wisehockey's AI and machine learning solutions will provide more and more significant support to hockey coaching.
"We have been collaborating with the Finnish Ice Hockey Association for quite some time in different research projects and also in the Vierumäki Training Center where they have been using the Wisehockey analytics platform for years. Our strengthening partnership enables the use of new all-round technology for players' personal progress as well as sport-specific analysis. Our method of producing data from coordinates is unique, and it enables efficient use of modern digital tools," says Miska Kuusisto, Head of Sales at Wisehockey.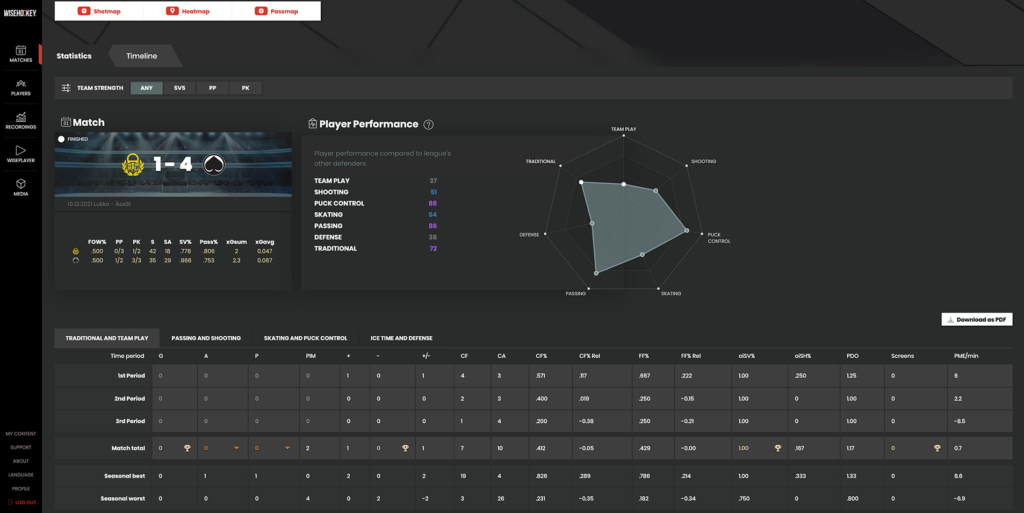 The Wisehockey platform is used league-wide in the multinational KHL, the Finnish Hockey League and the Norwegian Hockey League. The system is part of thousands of games a year. In addition, in the second-tier ice hockey league of Finland, Mestis, the club KooVee has piloted the Wisehockey platform in their home games in the ongoing season.
The Wisesport football analytics platform has been used in professional football matches since summer 2020. This year's championship series of the Finnish Premier League Veikkausliiga was entirely played using the system. [tähän kappaleeseen linkki Veikkausliiga-tiedotteeseen]
"Wisehockey has been featuring most prominently in different countries' top professional leagues and via their media partners. We have a background of years of data analysis on the game and players, unique on the international level. Only a scratch of it has been showing on media. It is wonderful to introduce real-time hockey analytics also to youth games, and introduce technological tools that help players' development. Digitalization on the same scale is not happening anywhere else," Kuusisto says.
More information: Contact us
Wisehockey in short
The Wisehockey system is a fully automated real-time sports analytics platform that gathers game data using Quuppa's advanced positioning technology, and automatically analyzes and presents the data to users in a visualized and easy-to-use format.
The Wisehockey analytics platform has years of experience in introducing the possibilities of real-time data to ice hockey. Smart puck data is widely used in gambling, TV, and media.
Wisesport is an official trademark of the company Wisehockey Ltd.
Wisehockey.com