For the third full season in a row, the Wisehockey real-time sports analytics platform helps many KHL clubs to deepen their data-driven knowledge and lead their operations based on reliable data. Bob Hartley, the head coach of Omsk Avangard, describes how big data helps his team in their daily work. Wisehockey provides statistics that are not available anywhere else, fully automatically and without manual effort.
The ongoing season is the Kontinental Hockey League's third full season with the Wisehockey real-time analytics platform. From the very beginning, the KHL has been using real-time data daily in TV, arenas, betting, and other digital channels such as the official KHL mobile app and websites.
Many of the KHL's top teams have also been able to deepen their data-driven knowledge and lead their operations based on big data analysis. A real-time Wisehockey webportal allows viewing visualized data from the played games and ongoing matches. The webportal with visualized statistics is available to all KHL clubs around the clock.
One of these progressive teams is Omsk Avangard, the 2020-21 Gagarin Cup winner. The team has adopted Wisehockey as one key element in their team and player development.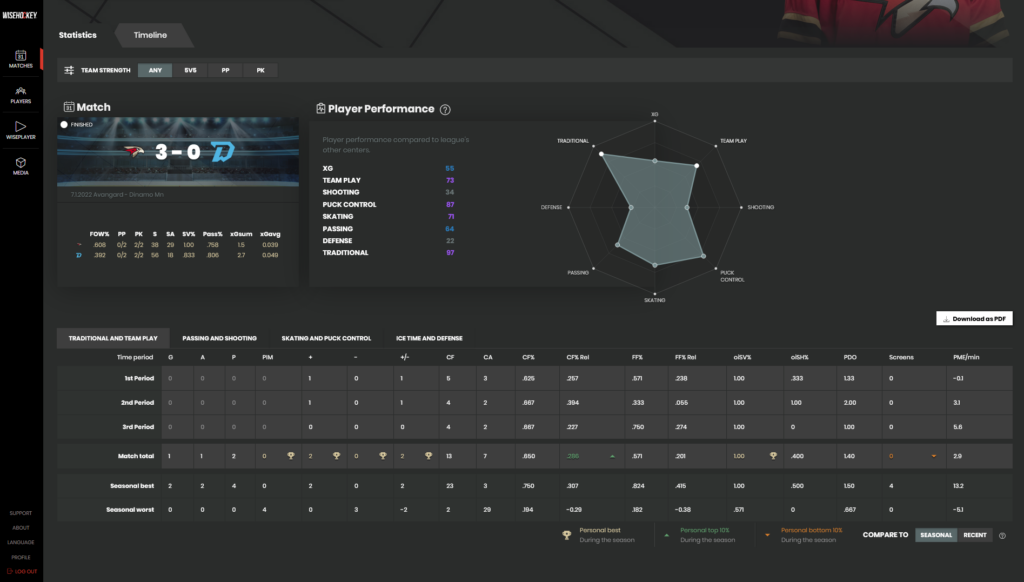 Data that is available nowhere else
Omsk Avangard's Canadian head coach Bob Hartley is a Stanley Cup and Gagarin Cup winner and a coach with decades of experience in professional hockey. His career includes the NHL in Colorado, Atlanta, and Calgary, the KHL in Omsk, and the national teams of Latvia.
Hartley says that Avangard benefits from real-time data because it provides the club with unique, advanced tools. Moreover, the fully automated Wisehockey platform requires no manual work to produce visualized statistics.
"Wisehockey produces a lot of information that is not available via other systems. Everything is available in real time without any manual effort, which naturally helps us in our daily work. The platform offers many very advanced tools such as real-time xG, shotmaps with all previous puck and player movements, profound offense analysis, and player profiling, just to mention a few," Hartley says.
New fan engagement features with real-time API
Wisehockey data can be used in many ways and in different contexts, Hartley remarks.
"There are many options to use smart puck data. On top of various fan engagement activities, teams get a full set of analytics in real time. The data are available with visuals immediately during the game, including automated video-clipping from thousands of events."
The possibilities of real-time data and API for sports clubs and organizations are unique.
"In longer-term analysis, the Wisehockey API offers us a mass of high-quality, ready-made data. It also gives us an opportunity to dig deeper into our game philosophy. I haven't seen so many opportunities with one solution before in my career," Hartley concludes.
Sports clubs and organizations benefit from consistent and comparable statistics for player and team development. The Wisehockey platform enables this on a unique scale. With thousands of tracked games a year and modern AI and machine learning tools, the potential for deeper-level game and player analysis is greater than ever.